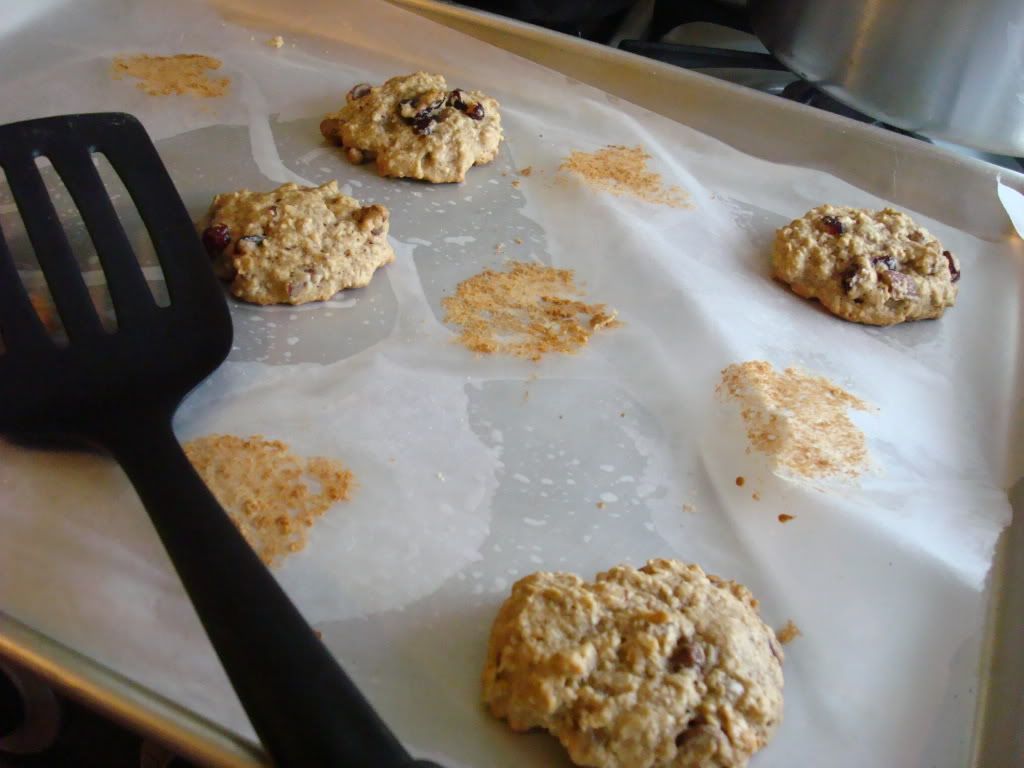 don't judge the empty spaces.
When I told Sam what I was making, he says, "So I can eat these for BREAKFAST?". I said yes. But in moderation. They're sort of a replacement for granola bars. You know those teeny useless ones that don't fill you up? These have about the same number of calories, fill you up more, and taste way better. I also changed some of the ingredients up to fit preferences (so feel free to change nut type, etc) and added wheat germ and oat bran. So yeah, they're better than having a granola bar, at least. Eat some fruit or yogurt with it too, maybe ;)
3/4 C all purpose flower

1/2 C whole wheat flour

1 C old fashioned oats

1/2 tsp salt

1/2 tsp baking soda

1 scant tsp cinnamon

1 large egg

5 Tbsp melted unsalted butter (it will help your cookies stick together)

2 tsp vanilla extract

1/2+2T C packed brown sugar (honey might also work. Haven't tried it. I also already reduced the sugar so reducing it more might mess up the product)

1/4 C of your favorite nuts, chopped (I used almonds)

1/4 C 0f your favorite dried fruit (I used dried cranberries)

1/4 C mini chocolate chips

1/4 of your favorite seeds (I used unsalted sunflower seeds)

Additional wheat germ and oat bran
Preheat your oven to 350F and line a baking sheet with parchment paper.

Sift together the flours, oats, salt, cinnamon and baking soda.

Beat the egg then add in the melted butter, vanilla and brown sugar. Stir until well combined.

Combine the flower and butter mixtures until well incorporated. Stir in the nuts/fruit, etc. Add additional wheat germ/oat bran to make a firm but moist dough (I needed about 1/3 c total).

Using your hands, form into about 15 cookies.

Bake about 10-12 minutes. Ten minutes is for a chewier cookie, and a little longer if you like a crunchier cookie.

Cool completely on the pan. Store in an airtight container (though if you look at the picture of our pan an hour after making them, we didn't need to store them).