I've been 22 for almost a week, but I still haven't posted about that joyous transition!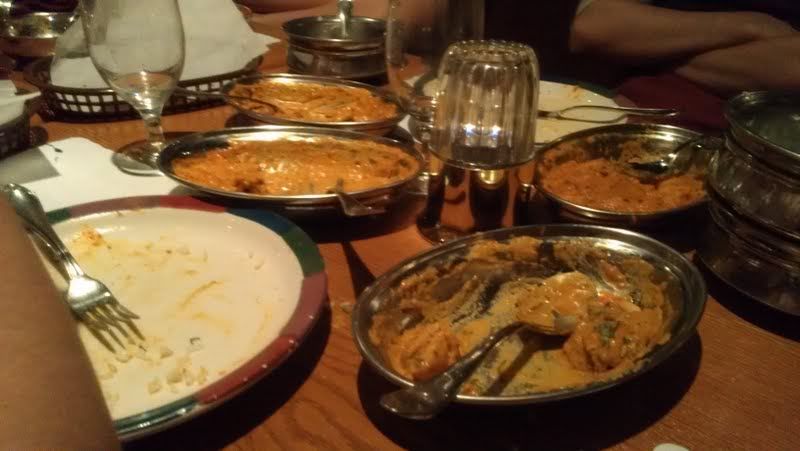 The week before my birthday the White fam took us to Bombay House at my request :) None of us had ever been there, but Sam and I had been wanting to try it for a long time. Let me just say that it is FAN-freaking-TASTIC! We all ordered a dish and kind of shared family style. My favourites were Chicken Tikka Masala and Chicken Coconut Kurma, along with the garlic Naan bread. The rice is also fantastic, and you get an endless supply! So if you went with just you and a friend you could definitely order a dish (plus bread!) and share it. I seriously recommend trying this place. I'm a pretty light eater most of the time, but I was very disappointed when I started getting full and had to stop eating ;) Afterwards Sam and I ran home to tidy up the apartment and Whites brought over an ice cream cake from Dairy Queen. Thanks family, for coming to celebrate with us!
The week of my birthday I was doing a presentation for a class, and there happened to be a portion of the lesson that could better be illustrated by having cupcakes. So naturally I made some fancy Valentines cupcakes. I'm very sad at my horrible picture taking skills that really don't do them justice, but they were super cute!
For my birthday, I had class until 6pm. Fun stuff, right? It's better than last year when I had to write an American Heritage test, though! Sam came to pick me up after class with some pretty flowers and a choice of two different dates- "In" or "Out". Given the fact that good ol' Provo was understandably a gong show, we decided to save going out for another night. We ordered food from a local family deli, picked up some Sour Patch Kids, and watched a movie. Totally perfect!
This weekend we did the "Out" date. We went to Carrabba's for dinner, where Sam had some kind of tasty chicken and I got lobster ravioli. It was
dang good.
Afterwards we went to the Tin Tin movie, which was surprisingly hilarious! I definitely recommend it. I am notorious for falling asleep in movies, but I stayed awake the whole time ;)
Well, that pretty much catches things up with what we've been doing (other than my running and both of us doing homework). We've mostly just been plugging along, looking forward to graduating! Soooooon. Soon.