We made these in one of my classes, and we had a ton of leftover lettuce, so I decided to make it again at home for Sammy boy. I especially love the dressing. It's really good served with rice, and use less filling on each lettuce leaf... Sam was going a little crazy ;) Also, the recipe is how we made it in class, which was super tasty. At home we don't have real chicken though- we just used canned chunks from the cannery and grilled 'em up in a pan. Still good.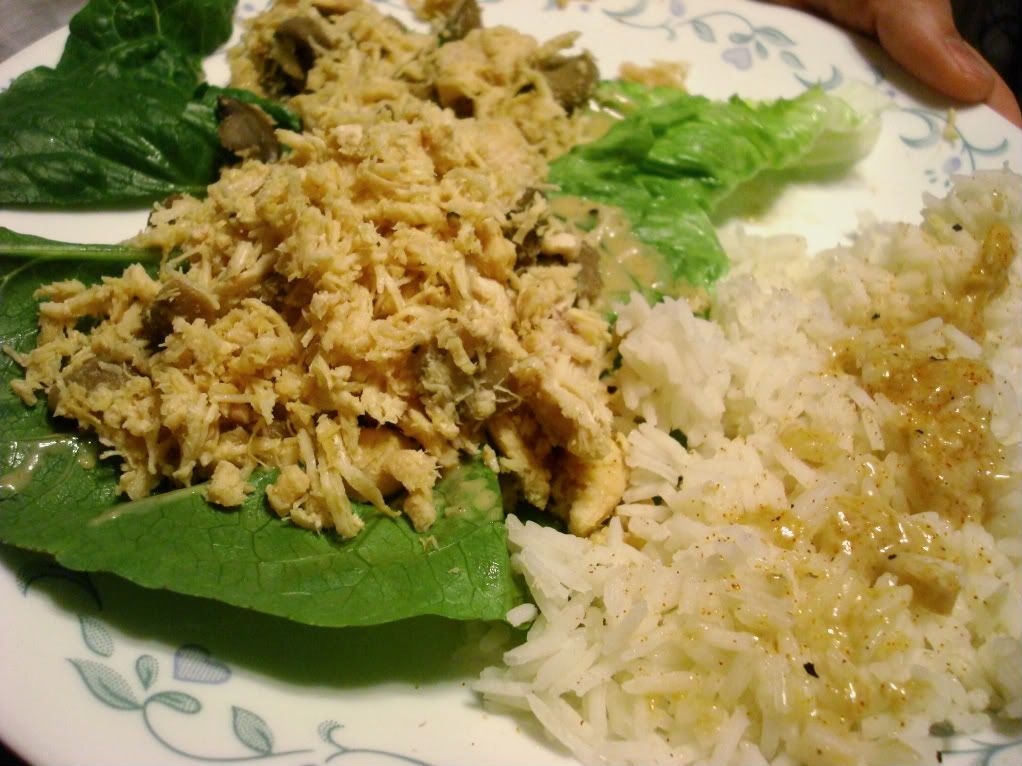 Chicken Lettuce Wrap
1 heart romaine lettuce
4 boneless skinless chicken breasts
4 heaping tsp reduced fat mayo
1 clove garlic, crushed
1 lemon, zested and juiced
2 Tbsp anchovy paste (optional. Never tried it so I can't vouch for if it's good or not. It worked without, though)
1/2 cup grated Parm. cheese
2 tsp Worcestershire sauce
1 tsp black pepper
3 Tbsp EVOO
Preheat oven on broiler setting.
Cut the bottom off of the Romaine health and then cut larger leaves in half lengthwise. Rinse and leave to dry while preparing the rest of the meal.
Season chicken (we used seasoning salt and pepper) and place on pan. Broil 7 minutes, flip, broil 7 minutes more. When done, let stand 5 minutes before slicing/shredding.
Place mayo, garlic, lemon, anchovy paste, W. sauce, and pepper into a blender and turn on. Stream EVOO in slowly while blender is running. When combined, remove and use. Can also store in an airtight container.
Just put some chicken (and rice, if you want) on a lettuce leaf and roll it up! Super, super tasty!