So today I went grocery shopping. I got wheat bran and germ, oat bran, strawberries, sweet potatoes, non-fat cottage cheese, apples, carrots, bananas, spinach, blueberries, almonds, grapefruit, broccoli, calcium, wheat bread... and Oreos (well, the fake/cheaper ones). I'll post later on what I did with those :) Sam has been asking for a certain treat, and I like to keep husband happy!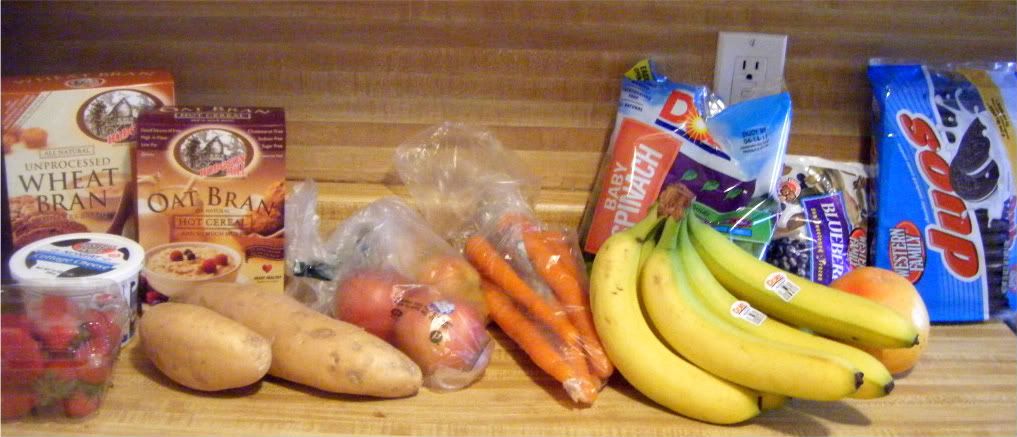 c-c-c-combo breaker!
hello friend, I have missed you so.
I love this time of year. Some of my favourite fresh produce is coming into season, and farmers markets will be opening up soon! I have loved going to the farmers market since I was in elementary school. I'm just cool like that. It is so much easier to eat healthy during these warmer months. Fresh, local fruit and veggies are the bomb! Then there is the winter, when I just want to eat pumpkin pie and mashed potatoes all day... That must just be the natural survival instincts kicking in.
Anywho- best salad ever: baby spinach and strawberries. Sliced almonds are also great additions if you're feeling the urge.
Things I'm looking forward to way more than is normal: nectarines, peas in the pod, blackberries, blueberries (with milk), raspberries, and watermelon. Yesssss.

PS: It is currently THUNDERSTORMING and that just joys my heart! So I've been sitting on the couch by the window, gazing out into the rain and making a duck face. I hope nobody is looking at me being a fool.
yeah, our light has no shade. keepin' it classy.