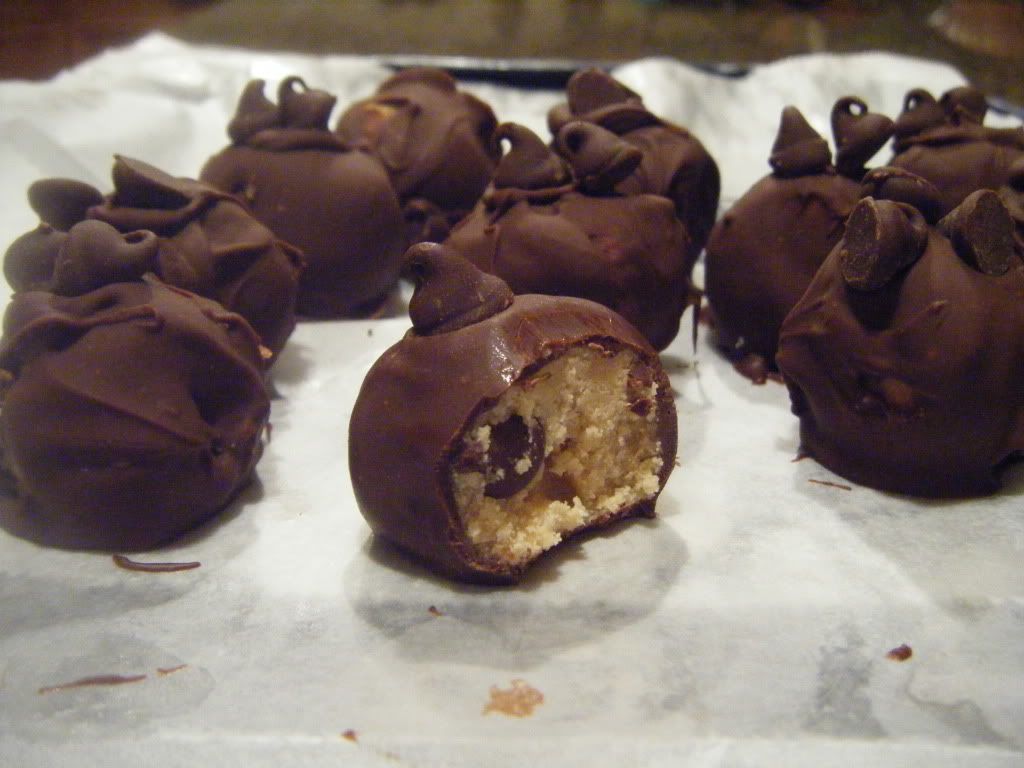 I love to eat cookie dough, but there's this hassle about
raw eggs
that makes me hesitate (kind of). I at least wouldn't want to feed other people, especially little kids, raw eggs. But then I found this recipe for frozen cookie dough that is the answer to all worries! There isn't any egg in it, but it still totally tastes like cookie dough! I decided to make balls and then dip them in chocolate, but you could also just leave them as is. I think it would also be awesome to make little pieces and use them as ice cream topping or to throw in a milkshake.
Frozen Cookie Dough Balls
1 cup butter
1 cup brown sugar, packed
1/2 cup white sugar
2 tsp vanilla
1 tbsp water
2 cups all-purpose flour
1/8 tsp salt
1/4 tsp baking soda
3/4 cup mini chocolate chips
Additional semi-sweet chocolate for dipping (optional)
Additional mini chocolate chips for garnish (optional)
Cream the butter and sugar in a mixing bowl. Stir in the vanilla and water. Combine flour, salt, baking soda, and then stir in chocolate chips. Roll into desired size balls and freeze on cookie sheet with parchment paper. Once firm, you can transfer to an airtight container and store in the freezer. If dipping, melt chocolate in microwave or double boiler and place on cookie sheet again and freeze.
Makes about 40 1-1.5'' balls.