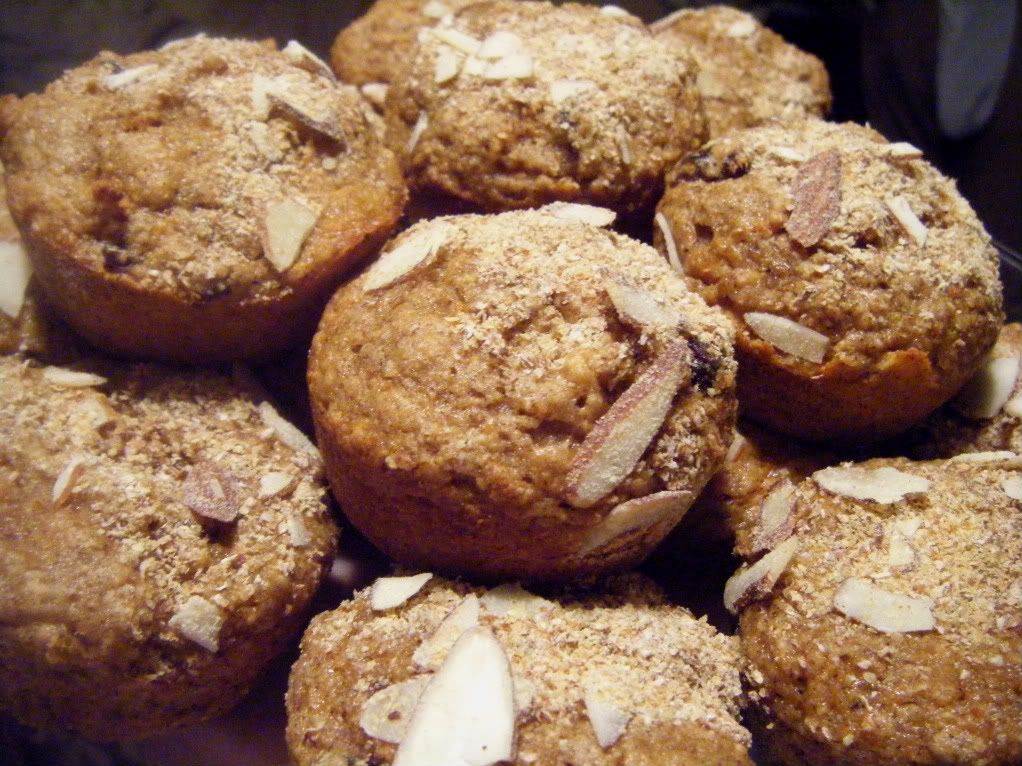 I've been on a healthy kick, so many of my new recipes in the repertoire are very healthy. I save the hearty eating for when I visit home or for special occasions. I think that the healthy stuff is great too, though. I also try to use original recipes from my family and adapt them to be a little healthier.


Some of those "healthy versions" of recipes end up not all that good. After all, it's the fat and sugar that is the best part, right? Well, guess what: these muffins are seriously fan-freaking-tastic, and very healthy. They have a lot of great stuff in them, and they will keep you going for a long time (hence the name). They even got me featured
on a blog
. Dang right.
Morning Glory Muffins
1 cup all-purpose flour
1 cup whole wheat flour
3/4 cup sugar (or honey)
1 1/2 tablespoon ground cinnamon
1 teaspoon nutmeg
1 teaspoon ground cloves
2 teaspoons baking powder
1/2 teaspoon baking soda
1/2 teaspoon salt
2 cups grated carrots
1 apple – peeled, cored, and chopped
3/4 cup raisins
1 tablespoon wheat germ
1 tablespoon flax
1 egg
2 egg whites
1 cup applesauce
1 tablespoon vanilla extract
2 tablespoons chopped walnuts or almonds
2 tablespoons toasted wheat germ
Preheat oven to 375 degrees F (190 degrees C). Lightly oil 18 muffin cups, or coat with nonstick cooking spray.

In a medium bowl, whisk together eggs, egg whites, sugar, applesauce and vanilla.

In a large bowl, stir together flours, cinnamon, baking powder, baking soda and salt. Stir in carrots, apples, raisins, 1 T wheat germ, and flax. Stir in wet mixture until just moistened. Spoon the batter into the prepared muffin cups, filling them about 3/4 full.

In a small bowl, combine nuts and wheat germ; sprinkle over the muffin tops.

Bake at 375 degrees F (190 degrees C) for 15 to 20 minutes, or until the tops are golden and spring back when lightly pressed.