They're like drop cookies, but healthier! And they're a great cold treat!
I got the original recipe from
Oh She Glows
, which is a website that I'm pretty much in love with right now. There are so many neat recipes and other posts on her site, and her story is pretty inspirational! Anyway, check it out! Some of the recipes are a little "out there" to me (she is vegan and uses a lot of ingredients that I haven't even heard of) but I'm stoked to experiment!
Anyway, she had this little dessert recipe that I decided to try. I made some changes to what she did, but if you want to see the original click the link above.
Frozen Oatmeal Chocolate Peanut Butter Cookies
1 large banana
1 T peanut butter
1 T cocoa powder
1/2 c oats
1/2 c granola
1 T mini chocolate chips (optional)
1 T sliced almonds (optional)
coconut for garnish (optional)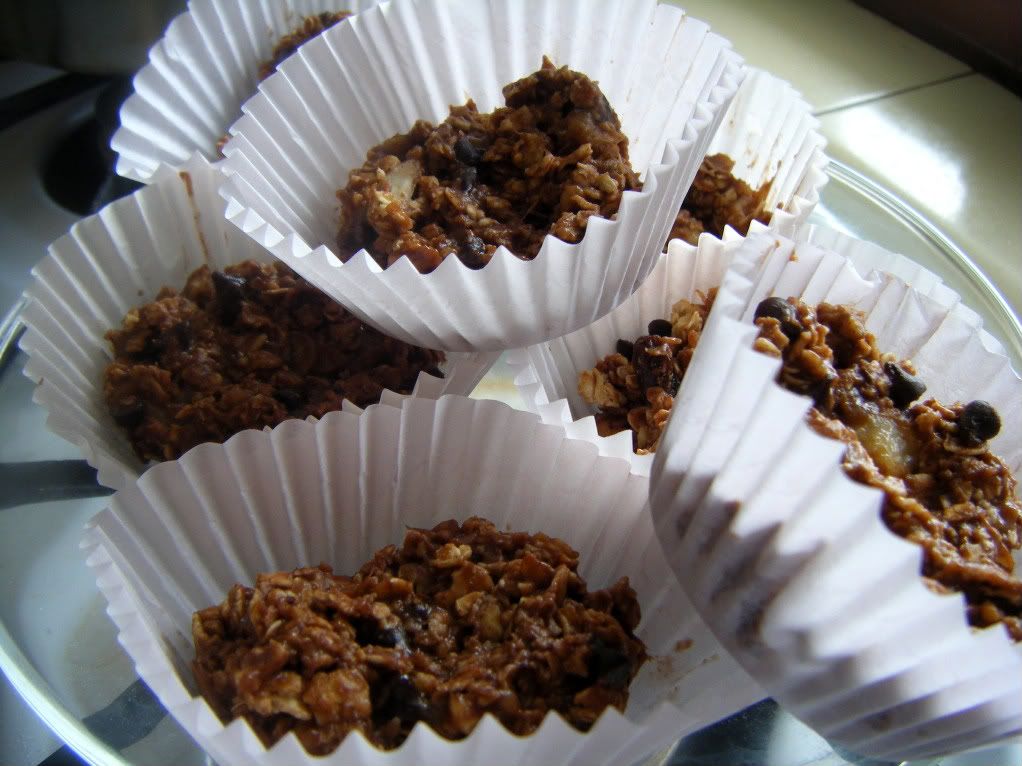 Mash the banana. Mix in the PB and cocoa. Stir in the remaining ingredients. Divide into lined muffin tins (about 7-8). Freeze for an hour until firm but still chewy ;) Eat right away, because they will get melty! I also liked it without freezing. They would work as drop cookies too.
The recipe I did is about 121 calories per cookie and 11% fibre intake
I think they would be great with other nuts, dried fruit, etc. You could pretty much add whatever you wanted. You could also add things like flax or chia seeds if you want to make them extra healthy. If you want them to be sweeter, add 1 T maple syrup (but I don't think its necessary).