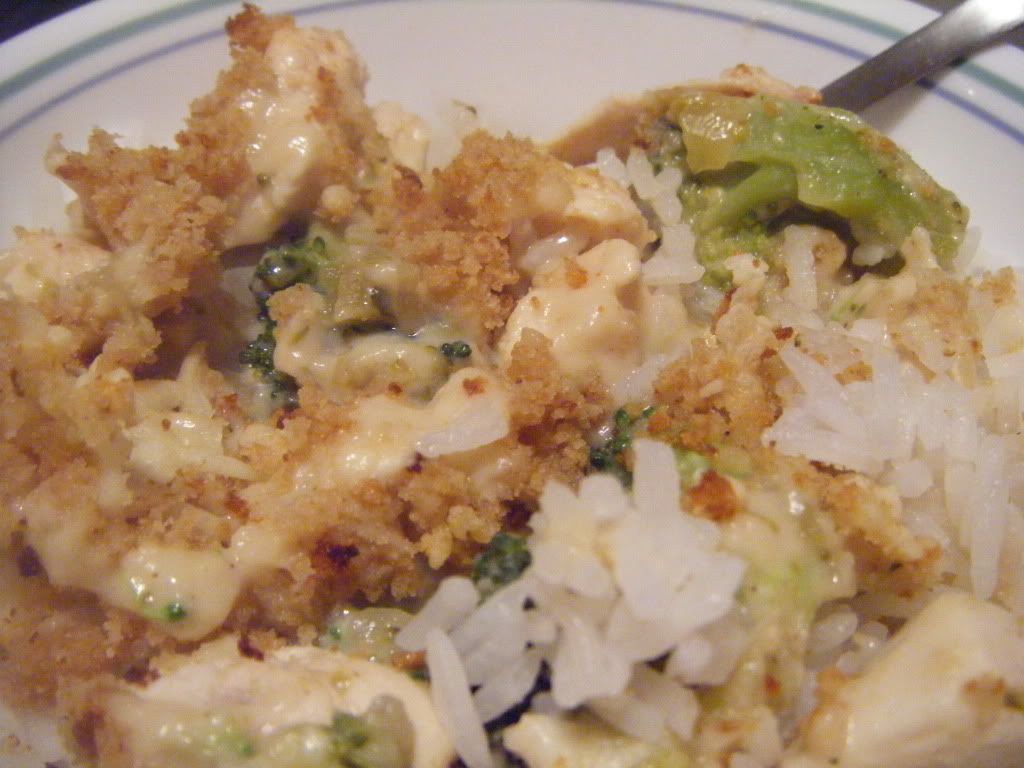 It tastes better than this picture looks!
Guys, just so you know, sometimes my recipe attempts are
not
a hit. Sometimes I make too many substitutions/reductions in an attempt to make it more healthy. It just doesn't always work. Other times I do silly things like not set the timer, or sometimes things just don't turn out. Fortunately, Sam isn't too picky and very graciously eats things anyway-- except that nasty pasta thing that one time... But we don't talk about that.
However, this is one dish that is SO stinkin' good that it just might be worth the calories. I did reduce the fat, cheese, and sodium, so it's a little better. No but seriously- totally worth it.
(I'm really sorry that my food pictures are really awful. Just pretend they look awesome, ok? Excellent.)
Broccoli Chicken Divan
l lb broccoli
1 cup cooked chicken meat, in bite-sized chunks
1 (10.75oz) can condensed cream of broccoli soup (other "cream of"s will also work)
1 garlic clove
1/3 cup milk
1/2 cup shredded cheddar cheese
1 T butter
2 T dried bread crumbs
1. Preheat oven to 450F
2. Steam broccoli until slightly tender, but not completely booked.
3. Place the cooked broccoli in a 9inch pie pan. Top with the chicken. In a bowl, combine the soup, milk, garlic, and some of the cheese, then pour into pan. Sprinkle with the rest of cheese.
4. Melt the butter, then combine with bread crumbs. Sprinkle over the cheese.
5. Bake in the preheated oven for 15-20 minutes, or until bubbly and lightly brown. Serve over rice.
Add more broccoli and less chicken if you want! You don't even need to use chicken, really. I think it would be awesome with just broccoli. It might be good with black beans or beef as well, but I haven't tried it.