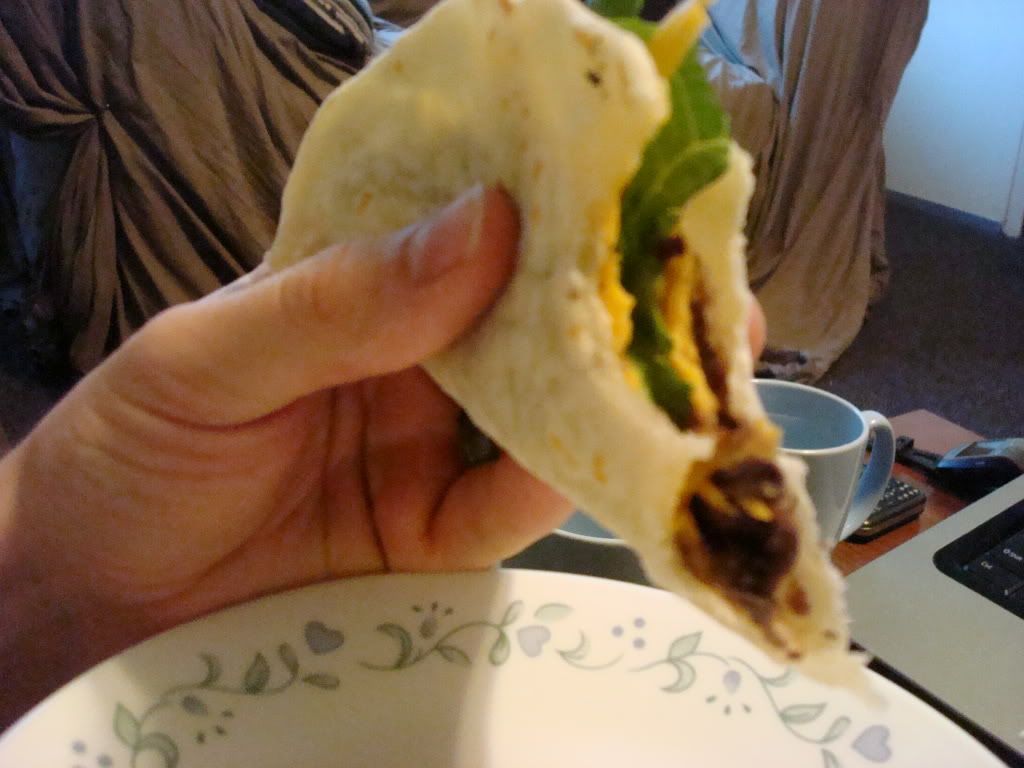 Sorry for the blurry picture, but Dear Husband was unimpressed that I tried to get him to stop eating the last tortilla so I could grab a picture of it.
The other day I was craving a tortilla, but we didn't have any. So I thought to myself, "Self, just make your own dang tortillas!" And so I did. I also made homemade refried beans, which were way the heck better than the too-salty-mush that the cans sometimes turn out to be.
3 cups unbleached flour
2 tsp. baking powder
1 tsp. salt
4-6 Tbsp. vegetable shortening or lard (Orrrrr you can also use 4 Tbsp. margarine and half the salt. Whatever helps you sleep at night)
about 1 1/4 cups warm water
Mix dry ingredients. Cut in fat. Add water gradually until dough is soft but not sticky. Knead for several minutes. Break into 8 equal sized balls. Cover with plastic wrap and let sit about 10 minutes. Heat a cast iron skillet to medium-high. Flatten the heck out of the dough to however thin/large will fit in the pan. Cook on both sides. Scarf.
Refried Beans (without the frying)
Pretty much you just throw a rinsed can of black beans in a pot with some garlic and a dash of hot sauce then cover with enough water that you won't wreck the pot. Let it simmer for about 30-40 minutes, adding a bit of water when necessary. You can then just mash it up with a fork (or if you want to make a mess, put it in the blender).
We had our tasty tortillas with the hot shells, a bit of cheese, beans, salsa, and lettuce. I also made an apple-cinnamon one for dessert ;)