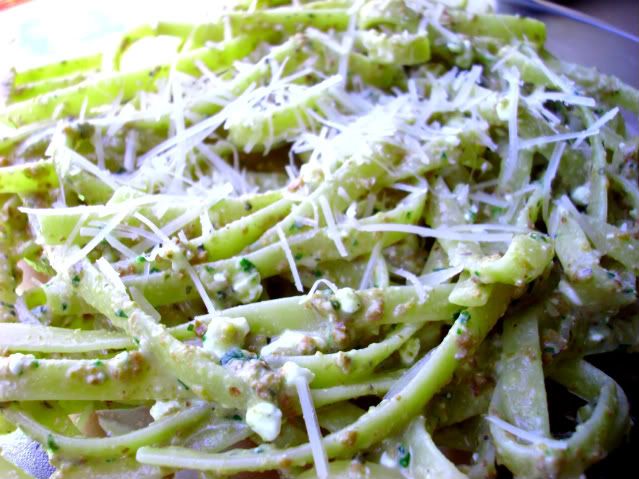 I found this neat website called
Lottie + Doof
that has some amazing food photography and recipes. I found an
almond pesto
recipe that I wanted to try, but changed a few things. I really liked it since I'm used to pesto, but the taste had to grow on Sam. One problem was that we didn't have enough fresh basil (holy smokes, it is way too pricey at Macey's!) and had to add a bit of dry. I think ricotta would taste a lot better than the cottage cheese in this dish, but ricotta=pricey and fatty, and we already had cottage cheese in the fridge. If you can get the fresh basil and ricotta, do that instead! The original recipe also added black olive, but I don't like them. Overall, pretty good, and worth a try!
2 garlic cloves
2/3 cup roasted almonds
4 cups basil leaves
1 tsp fresh lemon juice
1/4 cup grated Parmesan
1/4 tsp kosher salt
1/2 tsp freshly ground pepper
1/4 cup extra-virgin olive oil
3/4 cup cottage cheese
Finely chop garlic in a food processor. Add almonds, basil, lemon juice, Parmesan, salt, and pepper. Process until finely chopped. With motor running, add oil and blend.
Transfer to a large bowl and stir in cottage cheese. Season to taste with additional salt and pepper.
Toss with hot spaghetti, thinning with some cooking water if needed.