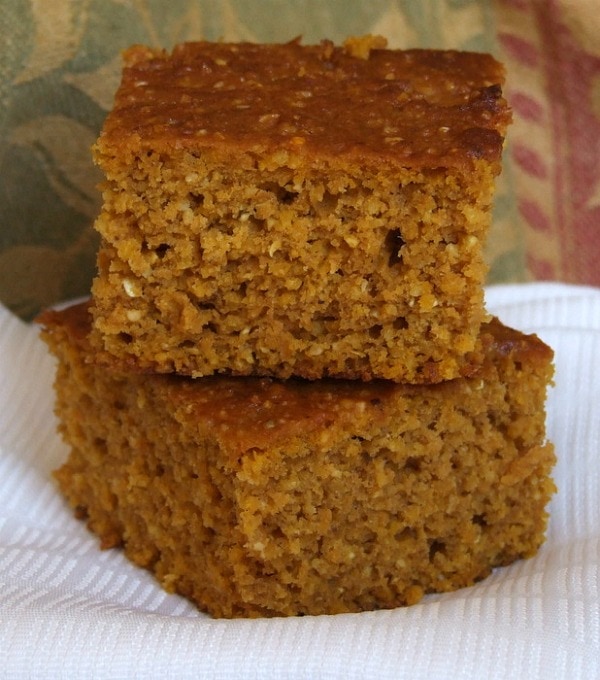 This little guy is an adaptation from
Sugar Cooking
. It has a really subtle pumpkin taste, and is very filling! I used whole wheat flour, I added wheat bran, and used apple sauce instead of oil. I also used 3 egg whites instead of 2 whole eggs.
I had to leave before it was done baking so I got Sam to take it out. While I was at my meeting, I got a text from him: "Wow, this pumpkin stuff is a keeper". I got home and tried it with some honey, and it is definitely a keeper! I would love to try this with a squash-type soup, but unfortunately it was gone before I got the chance! I guess I'll need to make more ;)
Pumpkin Cornbread:
1 cup whole wheat flour
2 Tbps wheat bran
1 T baking powder
1 tsp salt
1 tsp cinnamon
1/4 tsp nutmeg
1/2 c brown sugar
1 cup cornmeal
3 egg whites
1 cup pumpkin puree
1/4 c applesauce
1/4 c milk
1 Tbsp honey
Preheat oven to 400F and grease an 8x8 baking dish. In a medium bowl combine the flour, bran, baking powder, salt, spices, sugar, and cornmeal. In a small bowl, lightly beat the eggs and stir in pumpkin, applesauce, milk, and honey. Stir the wet ingredients into the dry until just combine. Pour batter into pan and smooth out as well as you can. Bake for 25-30 minutes or until a fork tests clean.