Up until last week, I had never tasted a fresh cranberry. While I was at the grocery store I saw a big bag of them for pretty cheap, so I grabbed one and decided to try making something with them. When I tasted one, I was expecting something sweet and tangy-- but it was so bitter! I was surprised, but apparently that's just what fresh cranberries taste like. I guess cranberry sauce just has a LOT of sugar in it ;)
I found a recipe for a cranberry orange loaf, and let me just say that it is FANTASTIC. This is definitely going into the holiday baking rotation. It's amazing. If my ward would actually assign me some people to visiting teach, this is what I would take them. For now I guess Sam and I will just have to work on eating large quantities on this beautiful thing.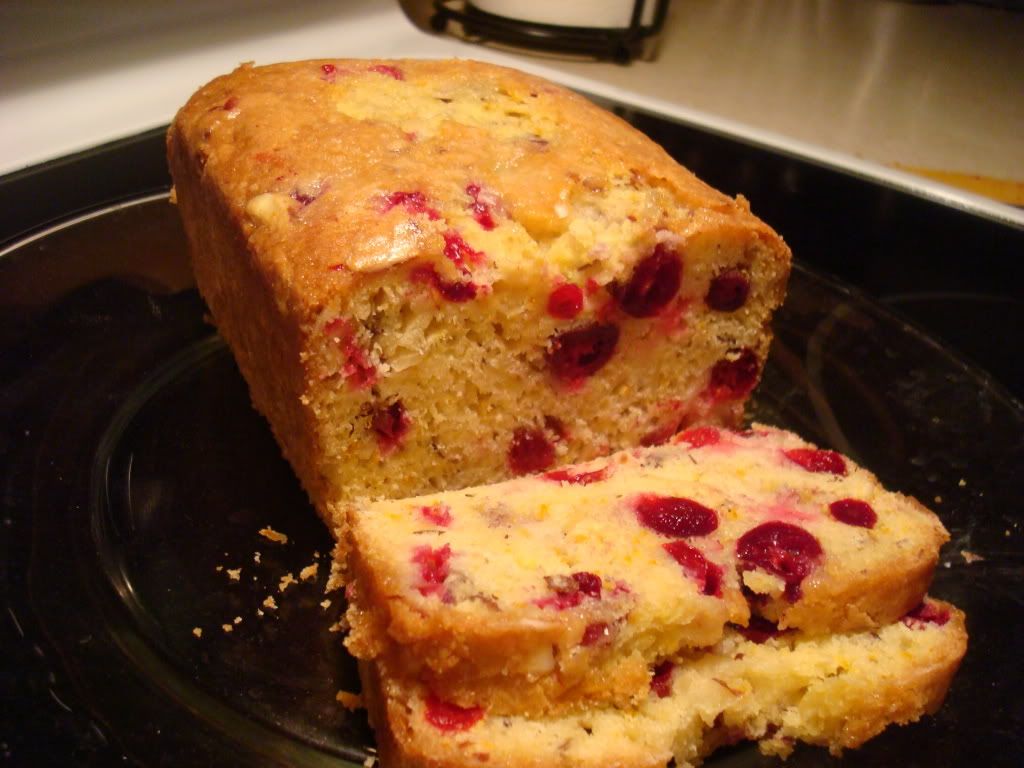 Cranberry Orange Loaf
2 cups all-purpose flour
1 1/2 t baking powder
1/2 t baking soda
1/2 t salt
1 T grated orange zest
1 1/2 c fresh cranberries
1/2 c nuts, coarsely chopped
1/2 c margarine, softened
1 c white sugar
1 egg
3/4 c orange juice
OPTIONAL GLAZE:
combine icing sugar and orange juice to form a syrupy consistency

Preheat the oven to 350F. Grease and flour a 9x5'' loaf pan.
Whisk together flour, baking powder, baking soda, and salt. Stir in orange zest, cranberries, and nuts. Set aside.
Cream together margarine, sugar, and egg until smooth. Stir in orange juice. Stir in flour mixture until just moistened. Pour into pan.
Bake 1 hour or until a knife comes out clean. Let stand for 10 minutes. (If desired, poke holes in the top, glaze and let sit another 5 minutes). Remove to a wire rack and cool.
Tips:
I needed 2 large oranges to get the right amount of zest and juice. To get more juice from your oranges, heat them up in the microwave for 10-20 seconds and then roll on the counter, applying enough pressure to soften it up. Then cut in half and squeeze to juice it.
The glaze is delicious, but not necessary for it to be awesome :)
If you wait for it to cool completely it's quite easy to cut with a serrated knife.
Try making mini loaves to give as gifts!