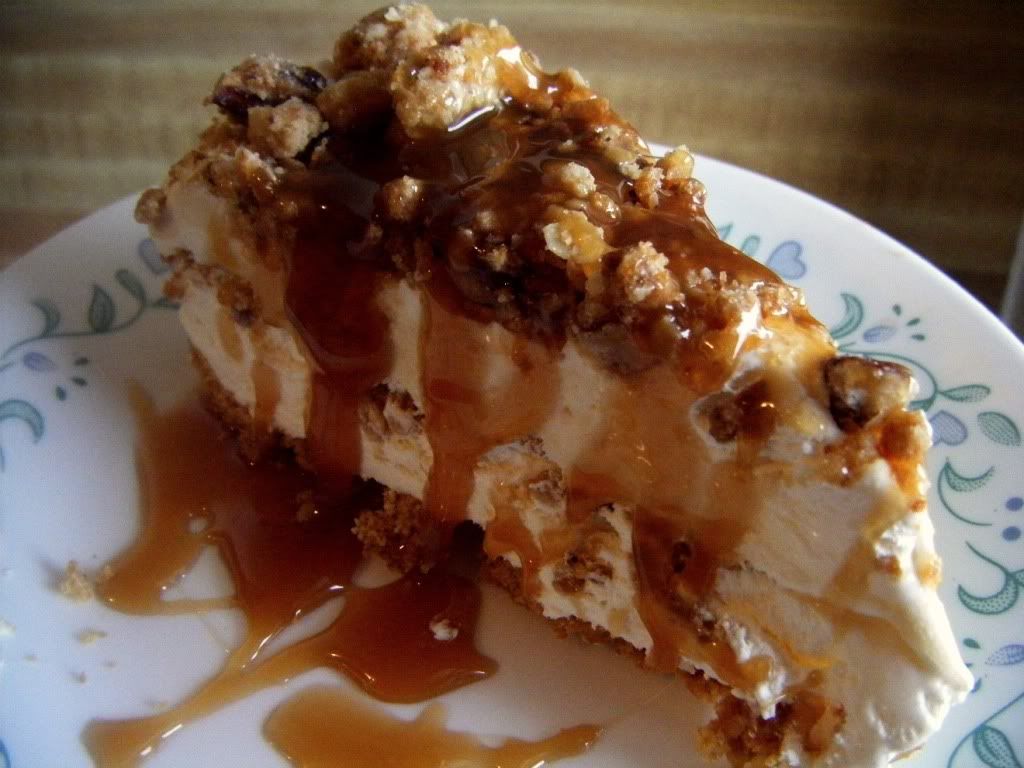 I made this dessert for a work meeting on Friday. Normally I really don't like giving away stuff that I haven't had a chance to try first, but with this one, there was definitely no need to worry. It was stinkin' good. Try it: your mouth won't regret it (though your butt might).
Butter Brickle Frozen Pie
1 1/4 c graham cracker crumbs

1/3 c butter, melted

1/4 c white sugar
1 c all-purpose flour

3/4 c quick cooking oats

1/4 c brown sugar

1/2 c butter, melted

3/4 c chopped pecans
1 (8 oz) package cream cheese

1 (14 oz) can sweetened condensed milk

1 (12 oz) container cool whip, thawed
Tips:
With the graham crust, I made a little extra. Also DON'T pack it in. Pat it in really lightly, or it will get too hard.
You need to freeze this a LONG time, like overnight.
When you take the springform edge off, rub a hot, wet paper towel on the edge and it will come off more easily.
Save a little topping to drizzle on the plate, if you want to be cool. chocolate shavings would look nice too.
I want to try some variations such as using almond instead of pecans, using chocolate instead of caramel, and adding extra cream cheese. Mmmm...